Long-Life Electrical Power System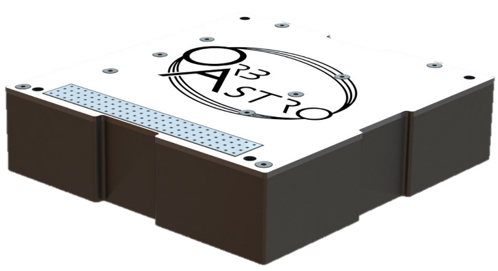 Batteries are a central pain-point for mission lifetime in the nanosatellite sector. We have developed a unique battery architecture that resolves this. For an equivalent mass/volume to conventional lithium-ion architectures, our solution:
Increases operational lifetime typically 5X
Simplifies thermal/power management systems
Is inherently more robust, reliable, & flexible
Operates consistently over a wider temperature range
95%+ capacity retention at 1C after 25,000 cycles at 90% depth of discharge
This flight-qualified product is readily scalable from 36Wh-300Wh. The EPS is state-of-the-art with all required interfaces, sensors and safety features.
The examples below spell out the deltas one can expect.
Spec

36Wh

72Wh

Price

£7,000

£12,000

Continuous Max. Power*

150W

325W

Watt Hours (Wh)

36

70

Operating Voltage

10.5-13.5

21.0-27.0

11-13.5

19.8-24.3

Cycle Life**

25k @ 25W, -30ºC

25k @ 60W, 0ºC

25k @ 75W, 25ºC

25k @ 60W, 50ºC

25k @ 40W, -30ºC

25k @ 110W, 0ºC

25k @ 210W, 25ºC

25k @ 110W, 50ºC

Shelf Life (years)

10

10

Overall Cycle Efficiency***

~96%

~96%

Mass

560g

1,100g

Volume

0.36U

0.7U

Operating Temp. Range (ºC)

-30 to +60

-30 to +60

Heaters Required

No

No

Explosive (thermal runaway)

No

No
*Continous max. power can be up to 10C at the loss of cycle life
**Cycle life at 90% depth of discharge
***Calculated at ambient and at 1C charge/discharge
Spec

OrbAstro 36Wh

Conventional 40Wh Li-ion

Continuous Max. Power*

150W

60W

Cycle Life

25k @ 25W, -30ºC

25k @ 60W, 0ºC

25k @ 75W, 25ºC

25k @ 60W, 50ºC

@ 90% Depth of Discharge

5k @ 20W, 0ºC

15k @ 40W, 25ºC

5k @ 20W, 50ºC

@ 25% Depth of Discharge

Shelf Life (years)

10

1-2

Overall Cycle Efficiency**

~96%

<85%

Mass

560g

~600g

Volume

0.36U

~0.4U

Operating Temp. Range (ºC)

-30 to +60

-10 to +50

Heaters Required

No

Yes

Explosive (thermal runaway)

No

Yes
*Continous max. power can be up to 10C at the loss of cycle life
**Calculated at ambient and at 1C charge/discharge
Get in touch: hello@orbastro.com